GMBA has seen a surge in interest from many businesses who require support to develop new markets, need access to quality networks and supply chains and most of all need someone in country to help navigate the many issues they are faced with when entering foreign markets. The requests for support at trade shows has also increased as more and more businesses are reluctant to commit to attending trade shows and spending considerable time and money to be there, with the possibility of walking away exhausted but with no results.
GMBA reported that globally they are seeing the effects of rising interest rates, higher transport, fuel and energy costs, currency fluctuations, shortages of skilled staff and the impacts of conflicts throughout the globe. This has caused a correction in many market sectors but demand for quality, competitively priced goods and services plus on-time delivery and excellent customer service is still strong. Relationships, networks, and reputations are more critical than ever in all aspects of B2B business. This has been evident at the recent Cannes, Monaco, and FT Lauderdale Boat Shows where extensive networking and sales were reported.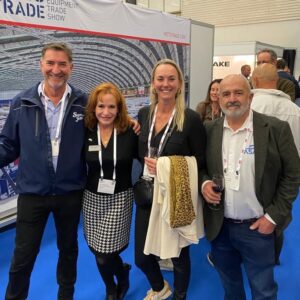 The strong contingent of GMBA consultants attending METS this week will be on hand to support clients. The six consultants attending are, Oscar Siches GMBA Spain, Albert Willemsen GMBA Netherlands, Lorenzo Pollicardo GMBA Italy, Boris Miskic GMBA Croatia & Montenegro, Jouko Huju GMBA Finland and GMBA Chair Veda Pretorius, South Africa. GMBA is predicting another successful event where they expect their intimate knowledge of the show, the traditional networking and their own contacts will help develop relationships for their clients, and ensure their clients meet their sales targets and come away from the show with serious outcomes.
Veda Pretorius, Chair of GMBA stated, "In developing my own business I cannot afford not to be at a key show like METS. Whilst none of my clients are attending, I have been engaged in seeking out opportunities for several of them. The superyacht forum, the many seminars and educational opportunities coupled with so many significant networking events makes METS one of the most important shows on the GMBA radar. METS is such a huge trade show that unless you have someone to help you navigate the halls, seek out the right distributors and suppliers, gain access to the best networking events you can waste a lot of time and come away exhausted, have spent considerable money on expenses but with minimal outcomes. To this end many of our GMBA team have been engaged by clients to help make introductions and support them in expanding their market presence in a way that delivers results."
Those wishing to contact GMBA in Australia can do so through MaryAnne Edwards  or call +61 412 916 036
Global Marine Business Advisors and its associated website www.gmba.blue are not registered legal entities. GMBA is a network of independent marine industry advisors.