Under grey skies but buoyed by water views and festive cheer, Southport Yacht Club hosted the annual SYC & Rivergate Marina & Shipyard Superyacht Captains' Long Lunch.
20 Captains gathered on the SYC deck, renewing long-standing friendships and forming new ones in the case of several skippers new to Australia and the custom of "Long Lunches".
Ongoing border restrictions meant 20 or so regular attendees were unable to join the group, and these "absent friends" were included in several toasts to the end of 2021 and a brighter year ahead.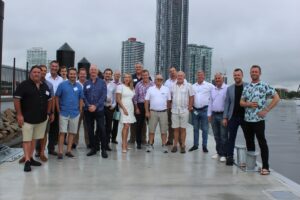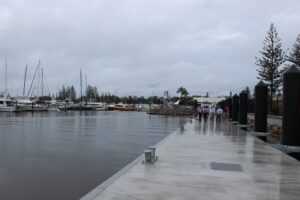 Brett James, General Manager at SYC opened the occasion with tributes to Dr Tom Wechselberger, from Queensland Department of State Development, and SYC's Mark Riddell for their part in the successful development of the 160-metre superyacht berth which is close to completion and due to open in early 2022.
Superior Jetties' CEO, John Hogan was credited with the design and construction of what is Australia's largest pontoon, purpose-built to accommodate the top tier superyachts in the region.
"This berth will open the doors to visits from bigger vessels which bring with them economic opportunities for businesses across the region.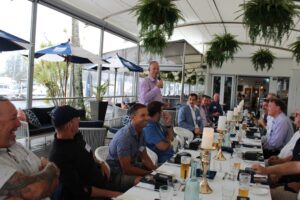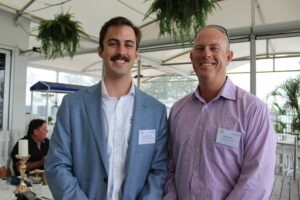 "More yachts mean more work for the people who service them, more orders for the people providing provisions to them, and more customers for restaurants, eateries and retail outlets across south-east Queensland and the east coast."
Over lunch, conversation turned to the imminent re-opening of international borders and the hope that the flow of crew would increase.
"There is a real lack of crew at the moment," said Captain Todd Rapley who helms "MY Beyond Capricorn", a privately-owned, 28-metre Cheoy Lee.
"There are more boats here than there are crew to run them," he added. "As a consequence, we are paying very high wages to keep good crew. Crew are crucial to the whole onboard experience."
The owner of "Beyond Capricorn" also owns a second "Beyond Capricorn" based in Malta, a Bering explorer yacht that has travelled the globe. "The owner simply loves being on his boat with friends and family, wherever that is in the world."
After just a few months on the Gold Coast and his first time in Australia, this was Captain Todd's first introduction to the tradition of the Rivergate Superyacht Captains' Long Lunch. "It's fantastic! I could get used to this!"
Captain Jono Wishart, skipper of "SY Encore", said the event was a chance to catch up on industry issues, both local and international. "It's always nice to swap stories and hear what other Captains think about everything from tax to new anchorages."
Captain Dom O'Donnell of "MY Seed" said he was pleased to catch up with Captains he knew and some he knew only by name. "I'm friends with a few people, I've met a few at Monaco Yacht Show over the years, so it's nice to put names to faces. It was also fantastic to see what they've done at SYC."
MY Seed is a privately-owned 40-metre M Class Princess, based in San Remo.
"Our owner is located in Asia, so it's likely the boat could come down to the southern hemisphere. It's great to learn about the local berth and refit capacity," said Captain Dom.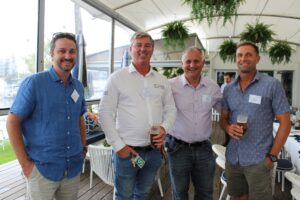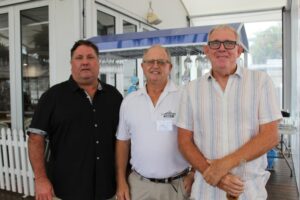 Also in attendance was Stephen Joyce from Gold Coast City Council, who spent time chatting with Dom about the attractions in the region. "I was speaking with him about making Australia a more appealing destination for international crew, in terms of visas, time off, parking for crew, what yards need to offer, such as gyms and parking. It's important to get the message out there."
Led by Brett James and Mark Riddell, guests inspected the new superyacht berth, walking along its full 160-metres to fully appreciate the engineering feat of its construction.
Wide enough to fit a buggy, truck or a Rolls-Royce, the new berth offers visiting superyacht owners and crew immediate access to Main Beach, with its beaches, cafes, clubs, Hotels and boutique shopping, and is just 5-minute drive to Surfers Paradise or 10-minutes to Broadbeach.
Back at the table for dessert, the Captains returned the conversation to the current state of the Australian industry, which they unanimously agree is extremely healthy.
A denizen of the Sunshine Coast who spend much of the year working the Med, Dom O'Donnell said he was pleased to see new infrastructure and he could foresee a superyacht boom here in the not-too-distant future.
"It's definitely on the up. It's amazing to see so much money being spent on yachts. That's a good sign.
"With the Rugby World Cup and Olympics here, more and more vessels 50-metres+ will want to travel here. There's a lot of Australian crew with international experience who will champion Australia to their owners and Captains.
"Things are definitely going to change, when you see the likes of the new berth at SYC. You're going to need bigger berths for bigger yachts. As the saying goes, build it and they will come."
Rivergate Marina & Shipyard General Manager, Andrew Cannon said signs were all positive at Rivergate. "Berths are full and we're set for a bumper summer season well into 2022 in terms of visiting superyachts.
"We're extremely grateful for our strong relationships with Captains and we look forward to welcoming them back to Rivergate in increased numbers."