Perfect sailing conditions under clear autumn skies set the tone for a glamour opening day of Sail Port Stephens with crews aboard the record fleet of 108 yachts enjoying some of the best and most scenic in-harbour racing on offer in Australia.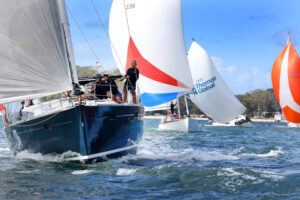 A 12-knot south-easterly breeze chimed in on cue for the upwind start directly off Nelson Bay breakwall with race officials setting a course taking the five divisions toward two turning marks in Shoal Bay set inside the spectacular entrance to Port Stephens.
There were some close calls but no paintwork scraped as Division 1 got away to clean start, with Julian Bell's Beneteau 50 51st Project hitting the line with pace and finding clear air. The intricacies of racing on a waterway two-and-half times the size of Sydney Harbour with strong tidal flows and shifting winds is one of the great levellers in this extremely popular regatta and ensured close action as spinnakers were deployed for the downwind leg to a mark in Salamander Bay.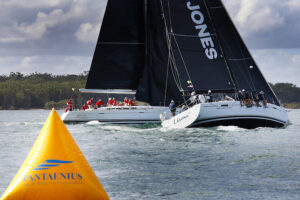 Llama II, a Dehler 46, capitalised on a good start and hoisted their distinctive yellow spinnaker before dropping the kite and getting locked in a tacking duel with 51st Project on the final upwind beat to the finish off Nelson Bay.
The close battle helped Llama II secure first day PHS honours in Division 1 from Lisa Callaghan's Sydney 38 Mondo. Khaleesi, owned by Neal Farquharson, held down third.
Jon Linton the skipper and owner of Llama II said he and his crew had thoroughly enjoyed the first race of the new six-day Passage Series format comprising the Pantaenius Commodores Cup and Port Stephens Trophy. The skipper agreed that electing to go with their symmetrical spinnaker known as "Big Yellow" on the downwind legs contributed to their victory.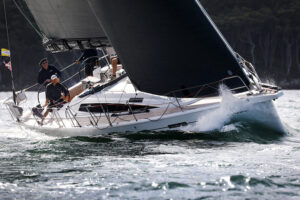 "You could see the guys with asymmetricals zig-zagging in front of us. It was right on the edge of how high we could carry it," he admitted. Linton and his well-travelled crew from Middle Harbour in Sydney have found their groove over the past year, winning their division at 2022 Hamilton Island Race Week and the 2022 Cabbage Tree Island Race on PHS.
"I'm looking forward to the offshore stuff (round the islands courses) too, and we just hope we are getting some wind," he said.
Division 2 was also closely contested with Justin Mitchell's Adams 10 Rant & Rave securing a win from Lee Condell's Jeanneau Sunfast 3300 Sunfish and Nocleks a Farr 30 owned by Joel Skelton.
In Division 3 local heroes Bellamy put their knowledge of Port Stephens' current and tide elevators to good use, holding out Animal Farm from the Gosford Sailing Club and Adrian Williams' Kelsea Blue, a C&C 115.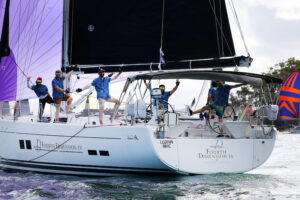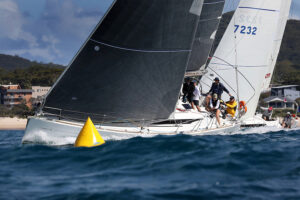 Steve Liney, Bellamy's skipper and his crew hail from the Port Stephens Yacht Club at Soldier's Point. Liney, a long-time sailor, confessed to having a rockstar on board – well-known Sydney sailor Andrew 'Bucko' Buckland.
"We had a great day," Liney enthused. "Some of our gybes were a little fluffy. I've done a few Sail Port Stephens now, my wife is from the area so I followed her up here, and the first year I just watched from the balcony as they were going past and it was killing me," he recounted. Liney wife's Danni and his daughter Heather will be joining the crew for tomorrow's race.
Other divisional winners Day 1 were Trim (Division 4), and Elara in the Non-Spinnaker Division.
Only 27 seconds separated first from second in ORC, with Khaleesi pipping former CYCA Commodore Noel Cornish in his always competitive Farr 40 Indi.
Tomorrow's forecast for ANZAC Day racing is a light easterly with the fleet set for another circuit of Port Stephens' majestic natural scenery.
For more information visit www.sailportstephens.com.au